No Win No Fee Solicitors Explained
---
No Win No Fee is a payment arrangement between an individual and a Solicitor whereby there are no legal fees payable to the Solicitor in the event that a Personal Injury Claim is unsuccessful.
Thus the expression 'No Win No Fee'.
In the event that a claim is successful and compensation is awarded to an individual, a Solicitor's legal fees form a pre-agreed part of the arrangement.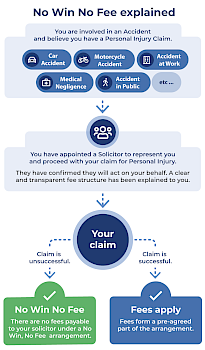 Why do No Win No Fee Solicitors exist?
No Win No Fee is a way for individuals to bring a Personal Injury Claim when they might not ordinarily be in a position to afford a Personal Injury Solicitor.
Traditionally you may have heard that hiring a legal team is expensive.
When an individual suffers a Personal Injury, through no fault of their own, their quality of life, costs, and circumstances can all change.
For example, they may:
have medical bills
have suffered vehicle damage (car accidents etc.)
experience loss of income
have greater insurance costs
have disabilities (physical and/or psychological) and require long-term care
have injuries that require their home or transport etc to be modified
In these instances, legal options might seem out of reach, and fees might prevent a claim from being pursued.
'No Win No fee' is the arrangement that gives the injured individual a better chance of seeking that compensation.
It makes legal services more affordable and a more realistic option.
No Win No Fee - Frequently Asked Questions