Malcolm Fraser, 1962 – 2021
---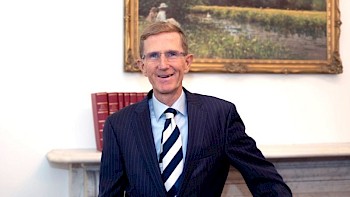 On 2 September 2021, our much-loved friend and colleague Malcolm Fraser passed away peacefully after a long illness.
Malcolm attended The High School, Rathgar, and from there progressed to Trinity College, Dublin, where he graduated with a degree in ESS (1984). Malcolm completed his apprenticeship in Eugene F Collins in the late '80s – a period he valued both for the experience gained and the enduring friendships made.
Following qualification, Malcolm joined the firm of Hussey O'Higgins, Ballsbridge, where he worked assiduously for his entire career, becoming managing partner of what became Hussey Fraser Solicitors – one of the foremost personal-injury and construction law practices in the country.
While Malcolm loved law and revelled in the 'cut-and-thrust' of practice, he was also an astute businessman with an entrepreneurial spirit, constantly exploring ways to generate an efficient, service-driven and progressive practice. He nurtured and respected his team and delighted in their individual and collective success.
Malcolm was a trusted advisor who unwaveringly dedicated himself to serving his clients' best interests, while always MALCOLM FRASER, 1962 – 2021 remaining an unfailingly courteous and respected colleague. He had an abiding sense of justice and believed that the system could ultimately be relied upon to deliver. He was known to be meticulously prepared and to maintain a calm presence and a sense of humour in the white heat of a tension-filled hearing.
In the words of one counsel who worked with Malcolm on many occasions: "I can truly say it was a privilege to have received his trust, faith, and friendship. Malcolm was a gifted lawyer and the ideal solicitor. He was highly intelligent, hard-working, forward-thinking and discreet. He had a steely determination and was a tough negotiator. One always knew that the client and the case was safe in Malcolm's hands."
Alongside his career success, Malcolm had a deep sense of humanity and an appreciation for what really mattered in this life. This was reflected in his significant pro bono work, in addition to his voluntary work as chairman of Care Local (now Crosscare), and as an esteemed board member of the Dogs Trust Charity. Malcolm enjoyed the outdoors and was an accomplished skier, enjoyed hiking with his pals, and was a popular member in both Powerscourt and Lahinch Golf Clubs.
He had a great capacity for friendship and a unique ability to relate to people from all walks of life. He was a true gentleman to the end, resolute and gracious in the face of his challenging illness. He was deeply appreciative of the care and support he received from a broad circle of friends, and especially from his loving wife Shirley, for whom his loss is immense and his memory will be cherished.
Malcolm is also deeply mourned by his parents Bill and Connie, his brothers Simon and Sandy, sister Moira, sisters and brother-in-law, nephews, nieces, cousins, many friends, especially Jack and colleagues, including all of the team at Hussey Fraser Solicitors.
---
SH
---